You can call him Angel if you want. He lives in Parker Hall and kind of dislikes it a lot. He's from Queens. He's about as multiracial as they come. He's fluent in Spanish. He works part time at Target. He's a recent addition to the lacrosse team. He's the Centennial Radio board operator. He has heterochromia. He did beauty pageants as a child. He's an artist with a bleeding heart.

FRIENDS While Angelo is more quiet and reserved he's always up for talking to people when they talk to him first. He doesn't mind socializing, he just doesn't usually initiate it first. Friends are easy for him to make and he can tolerate a lot of extreme personalities and needy people. He's incredibly patient when it comes to people and he'd range from having friends to have deep intellectual conversation with to people to smoke pot with.

FOES The easiest way to piss Angelo off is to go after his friends or someone weaker than you.

FANCIES He's dated a fair amount and is no stranger to romance. He's got no problem making out with anyone of any gender but he's only attracted to females. He's COMPLETELY OPEN for flings, one night stands, past, present, future, you name it.
19, ANTHROPOLOGY, FRESHMAN, SINGLE

SPACE
space
spaaace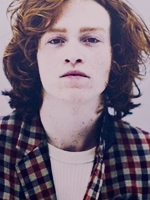 Don't call him Foxworth. Call him Fox, his name sign is FOX. He's profoundly deaf and non-verbal but don't let that stop you; he doesn't. He's a sophomore. He's an Alpha Xi Nu member but he still has a dorm in Parker Hall. He's a country bumpkin from the mountains of Kentucky. He's a video game design major. He works as a graphic design consultant for a design and print company. 95% of his free time is spent playing video games. He loves a good prank. Bring on the party.

FRIENDS Fox is a very friendly guy. He has no problem getting to know people. He's a social butterfly and tends to dip into all possible social circles. He'd have a lot of friends. Lots. Don't be surprised if he drops from a tree and tackles you to the ground.

FOES Not everyone is going to like him but Fox tends to avoid people he doesn't get along with. He's prone to picking fights when he's drunk though.

FANCIES He's engaged to NAIRA ADAMS and has been dating her since he was sixteen so...
20, ALPHA, SOPH, GAME DESIGN, ENGAGED

SPACE
space
spaaace
Hiro's from Japan and his English kind of sucks sometimes. He's a bartender and a popular Youtuber. He's the father of two tiny girls, four year old Jewelie and three year old Lovelie. He changes his hair more than he changes his underpants. He's on the soccer team. He struggles with a cocaine addiction.

FRIENDS Hiro is a good friend if you give him a chance but most people don't get that far. On the outside he's a pretty shitty guy and he's difficult to understand and relate to.

FOES Oh god, he'd have a lot of these. He's not exactly the most courteous guy in the world, nor is he capable of keeping his mouth shut. He's a good guy, he just makes a lot of stupid decisions that get him in trouble.

FANCIES Hiro currently whores himself out to any girl pays attention to him but it's just not the same. He's in denial about his homosexuality. I'd love to play around with him finally coming to terms with himself through falling madly in love with a guy.
23, OMEGA, MUSIC PERF., JUNIOR, SINGLE

SPACE
space
spaaace
Levi's originally from a very wealthy family. He's also from Vancouver Island with mountains and orcas. Despite being from a wealthy family he just barely scrapes by. He works at the campus cafe and makes web comics. He has a lot of baggage under that messy hair and crooked smile. He struggles with childhood abuse and self harm. He's on the baseball team and the marching band.

FRIENDS He's kind of flaky and not ver reliable but he's adorable and friendly and awkward. Levi is one of those people who will be your friend for life the second you show him kindness. He's a pretty entertaining guy to have around. Don't be surprised if you asks you to sit in the doorway while he showers. You don't have to watch, he just doesn't like to be alone in a room.

FOES Impossible because he'd just hide from you forever. He's a lover, not a fighter. If someone obviously didn't like him he would avoid them like the plague because he's had enough beatings, kthx. He's a scaredy cat when it comes to confrontation.

FANCIES Levi's pretty oblivious when it comes to girls being interested in him. Think Garth Algar. "Take me, Garth." "Where? I'm low on gas and you need a jacket." There's definitely room for past relationships. Maybe something brief before he ends up making a move on his current crush.
22, ALPHA, STUDIO ART, JUNIOR, CRUSH

SPACE
space
spaaace
This is Stevie, just Stevie. She's from the Republic of Ireland and you'd take care to remember that. She's here on a Student VISA. She's very vulgar and trashy. A major daddy's girl and just as big of a tomboy. She loves aggression. She's on the rugby team and in the fight club. She works as a tattoo artist and body piercer. She will take sexual favors instead of money. She does roller derby under the name Pixie Kicks.

FRIENDS If you can get around her abrasiveness and her offensive sense of humor Stevie's a good friend to have. Not the best, because she's kind of selfish, but definitely an entertaining one. She'd definitely have a lot more male friends than female ones. Stevie's always been "one of the guys".

FOES Honestly she'd have so many because it's so easy to piss her off. She's not afraid to pick fights and most of the time she kind of starts them. Stevie's also not afraid to fuck you up.

FANCIES She's pansexual so anything and everything gender wise is welcome. She's also polyamorous so committing to just one person isn't her style. She's not a cheater though, just to clarify. She's a bit of a slut and proud of that so everything is COMPLETELY OPEN with her.
22, PRE-LAW, JUNIOR, SLUT, SINGLE

SPACE
space
spaaace
You can spell her name any way you'd like but only one person can call her Tuna. She's a criminology major who has a degree in photography. She's a photographer for the Centennial Herald. She practically lives at the foot of Joe Herschal's bed. She's Joe's shadow. North Korean refugee raised in Alabama. Really tiny at 4'11" and 95lbs soaking wet. Works as a tutor and note taker. Post traumatic stress disorder, asthmatic, anemic. She hates everyone.

FRIENDS She honestly is awful at making friends so I doubt she'd have very many. She's anti-social and apathetic and gives off some serious sociopath vibes. Once you've broken through that Yuna's a fiercely loyal friend to have though.

FOES She's a misanthropist with severe Bitchy Resting Face so she's bound to have a nice amount of one sided and mutual enemies. She may be small but she's a force to be reckoned with.

FANCIESMost people tend to assume she's in love with Joe but that's platonic love. In reality Yuna has little interest in romance but she's COMPLETELY OPEN so have at 'er.
23, CRIMINOLOGY, TUTOR, SENIOR, SINGLE

SPACE
space
spaaace