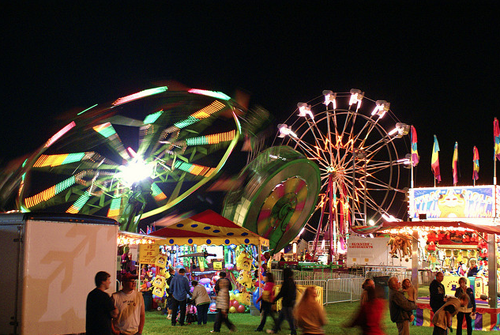 This year's Halloween event, hosted by the Student Government Association and CSU's greek life, is the Carnival. Typical carnival rides (such as the scrambler, a ferris wheel, etc.), games, and food stands are set up near the outer campus buildings, particularly close to the Roth building. It is open from Sunday morning (10/26) to Saturday evening (11/1) between the hours of 11am and 11pm (though on Halloween it is open until 2am), and admission for the week is a total of ten dollars per person (not counting the price of ride tickets, games, and foods). Along Greek Row, however, another challenge awaits: the Haunted House. The road there has been blocked off from traffic and temporary walls have been brought in to create a customized experience. Admission is five dollars per person, but beware: they've upped their game this year. It's been competitive in the past years-- each Greek house keeps an unofficial tally of how well they scare students-- but this year the competition has heated up. Be prepared.
Greek parties are typically hosted over the course of this week, too, ending with a huge costume party on Friday at the Kappa Zeta Epsilon house. Wear a costume for admission to the party, in which case you can partake in as much "punch" as you would like, so long as you don't get sick. And please, don't go ride anything after drinking.
Feel free to create topics of your own within this forum. Make them open or keep them private-- it makes no difference! Have fun! This forum will be open for new threads until the end of November.